Rumi Morales is a pioneer in identifying, investing and cultivating the emerging technologies that will define our economy's next generation. Currently a Partner at Outlier Ventures, she previously led the venture arm of the CME Group. Prior to CME, Rumi was a long-time executive at Goldman Sachs as well as a start-up entrepreneur. In addition to her board role at BitGive, Rumi is a member of the Board of the Negaunee Music Institute of the Chicago Symphony Orchestra and an Advisory Board member of the Chamber of Digital Commerce.
In 2016, Sandra Ro was named to the Innovate Finance, Women in Fintech Power List and brings deep expertise in investing in emerging tech start-ups. She is the CEO of the Global Blockchain Business Council and Founder & Managing Director at Vector Crypto Capital LLC. She has served as a founding board member of the Enterprise Ethereum Alliance (EEA), the Post Trade Distributed Ledger Group (PTDL), and the Linux Foundation's Hyperledger. Sandra was also the Executive Director, Head of Digitization, at the CME Group, where she was responsible for the company's digital asset and blockchain/distributed ledger technology (DLT) initiatives. Ro holds a M.B.A. in Finance from London Business School, studied Computer Science at Columbia University, and earned a double B.A. Degree in History as well as Studies in the Environment from Yale University.
Matthew is Co-Founder of Bloq, Inc., enterprise blockchain solutions company, and Founder and CEO of Tally Capital, a venture capital firm focused on blockchain-based technologies and currencies. Mr. Roszak is a blockchain investor, entrepreneur and advocate. He has spent over 20 years in private equity and venture capital with Advent International, Keystone Capital Partners, Platinum Venture Partners and SilkRoad Equity, and has invested over $1 billion of capital (from start-up to IPO) in a broad range of industries. Mr. Roszak serves as chairman of the Chamber of Digital Commerce, is the founder of the Chicago Bitcoin Center, and was a producer of the blockchain industry's first ever documentary, The Rise and Rise of Bitcoin.
Dawn is the Co-Founder and COO of Netki, Inc. a LA-based infrastructure solutions company, focused on bringing blockchain-based applications toward useful mass-market adoption. Netki works with companies across the industry to build standards and services that will allow their applications to be secure, scalable, and connected while ensuring compliance with existing regulations. Dawn has worked in the technology startup space for over 25 years, focusing on bringing nascent technologies to the mainstream at successful early Internet companies such as Microcom, InterAccess, & NetZero. Ms. Newton is currently an advisor to the National Observer and on the Board of the Threshold Foundation.
Paul has over 25 years experience as a consultant, nonprofit executive, and entrepreneur. He is currently Principal of Man on a Mission Consulting, a management consulting firm in the social sector. His diverse portfolio of over 35 clients includes Goodwill, the Silicon Valley Community Foundation, Benetech, and Cisco Systems. Paul has built several successful nonprofit organizations and social enterprises and held positions as Director of Programs at the US-China Business Council in Washington, D.C., a business analyst for Ernst & Young, and a marketing consultant for both U.S. and Asian firms. He is also an author, blogger, and radio commentator and his Op-Eds have appeared in a broad range of media outlets including NPR, the San Francisco Chronicle, CNET, the Huffington Post, and the Christian Science Monitor. 
A National Law Journal Cryptocurrency, Blockchain, and FinTech Trailblazer and cited authority on virtual currency, lending, and FinTech issues, Justin Steffen is a Partner at Barack Ferrazzano Kirschbaum & Nagelberg LLP in the Firm's Financial Institutions Group. His practice focuses on providing his clients with strategies and solutions for minimizing risk in the digital economy. Myriad clients seek out Justin for his deep understanding of FinTech and emerging technologies, including financial privacy, cryptocurrency, blockchain, machine learning, artificial intelligence, robotic process automation, data analytics and more. Justin is the founder and chair of the Chicago Bar Association's Financial and Emerging Technologies Committee, an organizer of the Block(Legal) Tech Conference, a member of FinTex's Legal and Regulatory Committee and a frequent public speaker on the intersection of technology and law. He is also an adjunct professor at Northwestern Law School and Loyola School of Law where he teaches FinTech and the Law.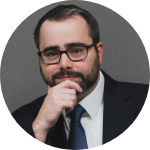 Patrick is a fellow at the Harvard Berkman Center for Internet & Society where he researches the law and policy implications of bitcoin, distributed ledgers, and smart contracts. He is also Special Counsel at Cooley LLP, focusing on the legal and regulatory issues facing fintech and emerging payment systems. Previously, Patrick was a co-founder of the Bitcoin Foundation where he served at times as General Counsel and Executive Director. Patrick has engaged regulators and policymakers in the US and Europe on bitcoin and the emerging digital economy. He was named among America's 50 Outstanding General Counsel for 2014 by the National Law Journal. Patrick was the BitGive Founding President and served from 2013 to 2019. 
Stephen is co-founder and CEO of BitPay and has over 20 years of experience building software systems in the financial and telecommunications industries. He has held various roles including entrepreneur, architect, manager, team lead, and developer. He closely followed developments in cryptography along with attempts at creating new electronic money and accounting systems. Stephen was a Founding Board Member of the BitGive Foundation and served for 2 years as its Treasurer and CFO.
Alyse is Founding Partner StillMark Co., and Founder and Executive Director of City Fellows Consortium and Women in Venture. She also serves as a Mentor at Silicon Valley's Plug and Play Tech Center, Alchemist Accelerator, and to NYFTL by the Partnership Fund for NYC and Springboard Enterprises. Alyse is a Fintech Fellow at Singapore University of Social Sciences in Singapore and a Company Advisor contributing on issues of Strategy, Finance, Org and Ops, and more. She first learned about company building alongside a successful entrepreneurial grandfather, catalyzing an affinity for and commitment to entrepreneurs. Alyse served on the BitGive Board from 2015 to 2019. 
Twitter feed is not available at the moment.
Twitter feed is not available at the moment.