Our History
Early BitGive Projects from 2013 to 2016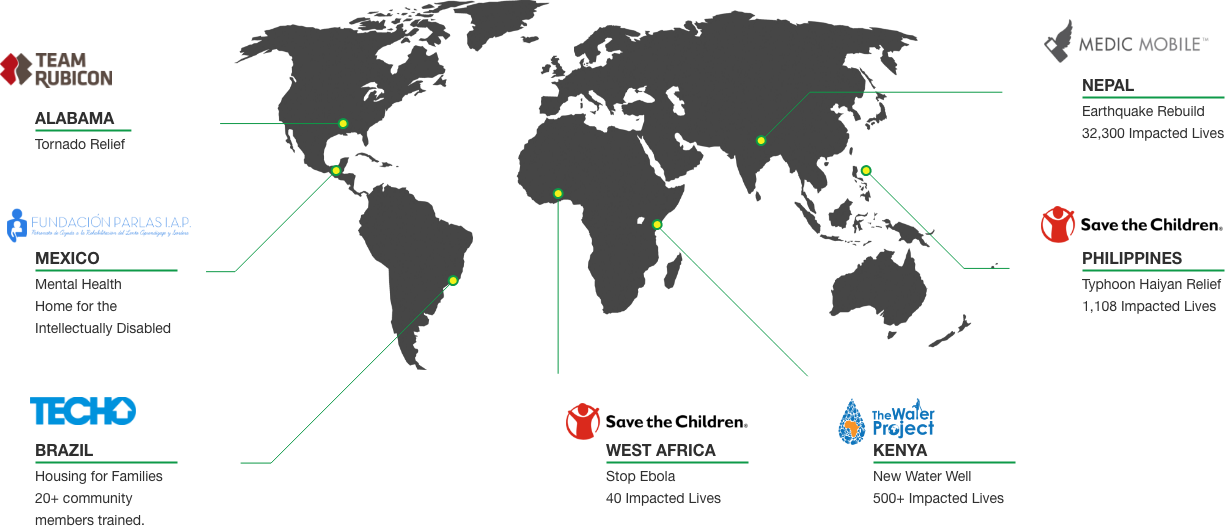 Philippines Typhoon Haiyan Children's Relief Fund Stop Ebola Campaign
Nepal Team Now Armed with over 640 Cell Phones for Strengthening Health Systems Post Earthquakes
Supporting Abandoned Mentally Disabled in Mexico
Building Homes in Brazil's Favela Communities
Southeastern USA Tornado Relief Efforts
Bitcoin Drives International Giving
July 2013
BitGive Officially Launched at Inside Bitcoins NY
November 2013
BitGive's first charitable campaign for Save the Children for Philippines Typhoon Haiyan relief
February 2014
Began fundraising for a water well with The Water Project
May 2014
Team Rubicon donation for US tornado relief efforts
August 2014
BitGive receives 501c3 status as world's first official Bitcoin nonprofit
October 2014
The Water Project funding goal exceeded, project planning begins
November 2014
Medic Mobile Campaign Started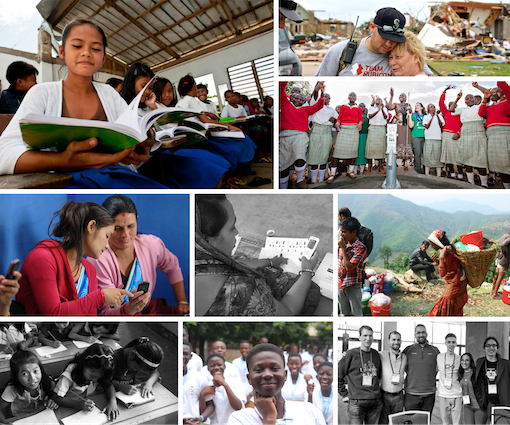 November 2014
First employee hired full time as Executive Director
December 2014
TECHO fundraiser at LaBITconf
December 2014
Save the Children Ebola fundraiser
March 2015
Water well completed at Shisango Girls School in Kenya with The Water Project
November 2015
Medic Mobile Campaign fundraising completed; 650 cell phones delivered to scale volunteer health worker programs in Nepal after two earthquakes
December 2015
Fundación Parlas fundraiser at LaBITconf
March 2016
Begin Development of GiveTrack MVP
October 2017
GiveTrack MVP goes live! Money 20/20 launch
December 2017
First successful pilot on GiveTrack MVP for Chandolo School
January 2018
Second successful pilot on GiveTrack MVP for Medi Mobile India and Asia programs
February 2018 to present
Testing and more pilots on GiveTrack MVP
May 2018
Team Grows to 19! Technical team, operations, new Board Members and Advisors, etc.
July 2018
5-year Anniversary
December 2018
GiveTrack 1.0 Launch!
GiveTrack™ is a platform nonprofits use for taking donations and sharing with donors exactly how their contributions are used while tying donations directly to a project result.
TRADITIONAL NON PROFIT SYSTEMS
• Limited Financial Services
• Transaction & Service Fees
• Vulnerability to Fraud
• Lack of Transparency
• Long Wait Times
THE GIVETRACK SOLUTION
• Access virtually anywhere
• Low to no fees
• Cryptographic security
• Transparency in real time
• Fast settlement w/ confirmation
HIGHLIGHTS
Blockchain technology allows donors to trace transactions on a public platform in real time
Donors can see how funds are spent and ensure they reach their final destination
Project results are shared for direct engagement with donors
Open Mind Africa: 2018 Summer Camp & Educator Summit, Ghana
Summer camp to help students develop mindset, character, and skills for academic and career success in Africa.
Maternal & Neonatal India Program
Help us reduce maternal and neonatal mortality in India
Chandolo Primary School Water Project
A new rain catchment tank, latrines and training will dramatically improve health and opportunities for learning at this Kenyan School
BitGive Founding Donors supported the first few years of BitGive's establishment, and we are forever grateful for their amazing support.
Thank you to our Founding Donors!
BitGive has also received significant support from Major Donors who contribute outside of our Sustaining Donor and Membership programs.
Thank you to our Major Donors!
Platinum ($20,000+)
BitPay
Perkins Coie
KnCMiner
Bitcoin Development Fund
Goodwin
Zlatin Balevsky
Gold ($10,000)
Silver ($5,000)
Coinsecure
Gem
BitPesa
Matthew Roszak & Tally Capital
Rover Ver
Eugene Jhong
Allison Coleman Payne
Harris Guy Barrett II
Bronze ($2,500)
Rocelo Lopes & CoinBR
CoinFabrik
Rodolofo Andragnes
Pablo Gonzalez
Xapo
Libra
Chain
Helen & Joe Sangermano
Maria Gallippi
Brooke & William Mallers
Dawn & Justin Newton
James D. Robinson
Pineapple Fund
Private Donor
Tether_is_fiat
Private Donor
Private Donor
LaBITconf
Alexey Chub
Matija Mazi
Christopher Rico
Peter M. Reis
ZenCash Community
Fox Beauregard Fund
Mathew Mark
$1,000,000
$1,000,000
$50,000
$30,000
$10,000
$7,000
$1,000
$1,000
$1,000
$1,000
$900
$500
$500
Learn more and become a BitGive Sustaining Donor today.
Thank you to our Sustaining Donors!
Learn more and join BitGive as a Member.
Thank you to our Members!
Pioneer ($10,000)
Walter and Karla Goldschmidt Foundation
Revolutionary ($5,000)
Innovator ($2,500)
KeepKey
Allison Coleman Payne
Avalon Life
ZenCash Foundation
Early Adopter ($1,000)
Mark Buettner
Brooke & William Mallers
Maria Gallippi
Axisflip Cryptofinancial
Patrick Reinhold
Mark and Lisa Murakami
Zlatin Balevsky
Tony Gallippi
Stephen Pair
Eugene Jhong
Jeff Garzik
Roger Ver
Jake Benson
Wences Casares
Brooke Mallers
William Mallers
Allison Coleman Payne
Maria Gallippi
Helen & Joe Sangermano
Elizabeth (Ploshay) McCauley
Michael Perklin
Brian Goss
Khai Pham
Curtis Alling
Charles C Voyles
Rocelo Lopes
Matthew Roszak
Steve Beauregard & Lee Fox
Michael Terpin
Lisa Cheng
Andrew Yashchuk
Sheldon Weisfeld
Matthew Mellon
Binary Financial
David Johnston
Nick Spanos
David Bailey
Erik Voorhees
Bruce Fenton
Richard Rofe
Jez San
Jeremy Kandah
W Brad Stephens
P Bart Stephens
Brock Pierce
John Betts/Noble Markets
Brett Russell/BIGbtc
Brennan Byrne
Ken Heutmaker
Caitlyn Mello
Mario Fantoni
Gary Cook
Robert Egan
Peter Yadlowsky
Peter Reis
Max Mellenbruch
Jason Seibert
Henning Eckert
Michael Crypto
Drew McClure
June Pavlovits
Brian Veitch
We appreciate our Partners who provide expertise, services and pro bono professional services to support BitGive on an on-going basis:
BitPay
Wachsman PR
Third Key Solutions
RSK
Koibanx
Libra
Bit Brands
Crypto Media Hub
Plug and Play Fintech
Feed Your Miner